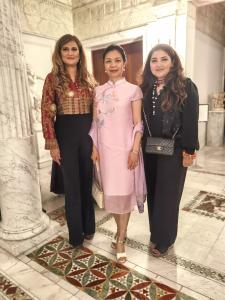 Anila Ali, Madam Wang, wife of the Chinese Ambassador, and Huma Adnan
WASHINGTON, DISTRICT OF COLUMBIA, UNITED STATES, June 25, 2023/EINPresswire.com/ — The American, Muslim & Multifaith Women's Empowerment Council. AMMWEC, led by Anila Ali, held a fashion show during Refugee Week 2023 to showcase sustainable fashion and empower refugee women in remote areas of Pakistan and Afghanistan. The event was hosted by renowned Pakistani designer, Huma Adnan, and co-hosted by Mrs. Inci Mercan, wife of the Ambassador of Turkiye, and Mrs. Zumrud Ibrahim, wife of the Ambassador of Azerbaijan. The show featured a collection of sustainable fashion items that highlighted the artistry and craftsmanship of refugee women artisans.
The event, hosted at the palatial residence of the Ambassador of Türkiye, was attended by esteemed guests and dignitaries, including wives of the ambassadors of Indonesia, Spain, China, and many other countries. American Muslim & Multifaith Women's Empowerment Council led the charge in creating a platform for refugee women to showcase their talents and impart skills that would help them become economically independent. The program is a step forward towards elevating the voices of those women and girls who had to flee their homes and helping these women become more self-sufficient.
Through this event, Huma Adnan aimed to empower refugee women artisans by providing them with the opportunity to showcase their talents and earn a livelihood. The exquisite collection was a testimony to the embroidery, weaving, and handicrafts skills of these talented women.
The fashion show also included some stunning designs by the celebrated designer from Azerbaijan, Aygun Talibova. Aygun, a highly successful business woman, who has established a fashion empire in Azerbaijan. She was duly acknowledged by Former First Lady, Melania Trump.

A group of young Turkish girls performed a beautiful cultural dance that depicted the celebrations during weddings in Turkiye.
The event was a resounding success, and the American Muslim & Multifaith Women's Empowerment Council is proud to have contributed towards enabling and empowering refugees in Pakistan and Afghanistan along with the hosts Mrs. Mercan and Mrs. Ibrahim.
#refugee #RefugeeWeek #RefugeeCrisis #Women #Fashion #WashingtonDC #FashionShow #Anilaali #Empowerment #WomensEmpowermentCouncil #Turkish #Azerbaijan #Pakistan #Pakistani #afghanistan #China #syria #isis #Turkiye #azerbaijan #HumaAdnan #USAID
Staff Writer
Ammwec
+ +1 2026005186
email us here
Article originally published on www.einpresswire.com as Fashion Show to Empower Refugee Women