Dholakia Foundation (Hari Krishna Exports) Awarded Philanthropy Category at The Indian Family Business Awards 2022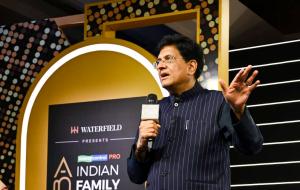 Honourable Piyush Goyal felicitated all awardees and encouraged other family businesses to contribute to India's growth story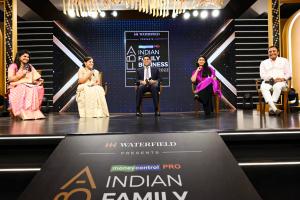 Indian Family Business Awards is an initiative of Moneycontrol and Waterfield in India
Dholakia Foundation of Hari Krishna Exports wins Indian Family Business Award 2022 in Philanthropy for impactful community contributions.
DELHI, INDIA, August 22, 2023/EINPresswire.com/ — Dholakia Foundation, the philanthropic arm of Hari Krishna Exports Pvt. Ltd., is once again recognised for its societal contribution as the recipient of the Indian Family Business Awards 2022, Philanthropy category. The award category is to honour businesses that have exhibited leadership in the innovative resolution of societal challenges, showcasing substantial advancement in community welfare, charitable initiatives, affiliations, or nonprofit ventures. The foundation's relentless commitment to philanthropic endeavours has earned them this prestigious recognition, highlighting their relentless dedication and excellence in giving back to the community. The award stands as a testament to their visionary leadership and the entire Hari Krishna Group's pursuit of uplifting the status quo.
In recognition of this remarkable achievement, Mr. Tulsi Dholakia and Mr. Pintu Dholakia had the honour of receiving this accolade. The momentous achievement was celebrated at an exclusive awards ceremony organised in the vibrant city of Delhi, hosted in The Oberoi.
When Mr. Pintu Dholakia from Hari Krishna Exports announced the news about winning an award from the Indian Family Business Awards 2022 to the family, the 4 Brothers: Chairman and Founder Padma Shri Savji Dholakia, and co-founders Ghansham Dholakia, Himmat Dholakia, and Tulsi Dholakia, were ecstatic. "We are deeply humbled and elated to be recognised with this esteemed award," expressed Tulsi Dholakia. "Philanthropy has always been at the core of our values, and this recognition further motivates us to continue our efforts to bring about meaningful change," he continued.
The Indian Family Business Awards is an initiative of Moneycontrol and Waterfield in India. It recognises and rewards outstanding family-owned businesses for their contributions to business and commercial processes. These awards celebrate the achievements of family businesses that have demonstrated economic growth, fostering stability and innovation across diverse industries. In addition, it seeks to acknowledge the unique strengths of family businesses in India, which often blend modern business practices with traditional networks and community ties. By doing so, these businesses contribute to the creation and distribution of wealth while also promoting financial stability at both micro and macro levels within the country.
The awards ceremony was an exceptional gathering of like-minded individuals who understand the unique challenges and triumphs associated with managing successful family businesses, this also aimed to acknowledge the business leaders who possess a deep understanding of their industry, who made significant change and who are positioned to create enduring positive effects on both society and India as a whole.
Soumya Raman, Founder and CEO of Waterfield, welcomed everyone with a warm speech by fostering a keen insight into family-owned businesses. Furthermore, the awards ceremony was marked by two-panel discussions to share insights about family-owned businesses, challenges and opportunities. The first discussion was Succession Planning in Family-owned Businesses hosted by Chandra Skrikanth with distinguished panellists Managing Partner Cyril Amarchand Mangaldas Rishabh Shroff, Waterfield Founder and CEO Soumya Rajan, and Grant Thornton Bharat Partner and Leader – Private Client Services Pallavi J Bakhru. The subsequent discussion was Battling Stereotypes while following Family Businesses & Legacies, hosted by Chandra Skrikanth with distinguished panellists Waterfield Founder and CEO Soumya Rajan, HCL Technologies Ltd Chairperson Roshni Nadar Malhotra, and TVS Motor Company Managing Director Sudarshan Venu.
Some of the awardees from this season include notables such as Tega Industries Ltd CEO and Managing Director Mehul Mohanka, Apcotex Industry Managing Director Abhiraj Choksey, Borosil Ltd. Managing Director Shreevar Kheruka, Century Plyboards Executive Director Phrem Bhajangka, TVS Supply Chain Solution COO Shau Muthana, Minda Corporation Ltd. Chairman and Executive Nirmal Minda, Havells India Ltd. Chairman and Managing Director Shri Anil Rai Gupta, Thermax Ltd. Executive President and CHRO Jasmeet Bhatia, and Muthoot Finance Ltd. Managing Director Shri Alexander George.
The ceremony was made even more memorable with the presence of the Honourable Piyush Goyal, Minister of Commerce and Industry, who is also a visionary leader with immeasurable contributions to the country's economy and a passionate advocate for innovation and entrepreneurship. In his address, the Honourable Piyush Goyal felicitated all awardees and encouraged other family businesses to contribute to India's growth story, "While, of course, Awards help you gain recognition, they also come with a lot of responsibility. The expectations of the people will only increase; there will be more demands, and there will be more expectations. But I have no doubt that each of the award winners will sprout in the years to come. This award will encourage many more who were not selected today but were maybe as deserving as the award winners today. Therefore, this should also be a great source of inspiration for all the other businesses run by eminent families, irrespective of whether they are on a small scale, start-ups, medium, or large scale. All businesses, big or small, contributed to the great India story that we were all privileged to be a part of."
He further shared how India had been in the past decade, being one of the five fragile countries with the lowest economy, and the struggle of Indian people who travelled and experienced discrimination. Looking back at the growth of India's economy, there has been rapid change and improvement. "The action towards this journey gave them the courage of conviction to be able to say that this was going to happen, that this was the part that India was going to traverse over the next 25-30 years. Indian family-owned businesses turned their hard work into this successful story," he added, drawing from his experience with the Government of India as efforts invested today become the foundation of tomorrow's achievements.
Dholakia Foundation (Hari Krishna Exports Pvt. Ltd.) remains dedicated to its mission of making a lasting positive impact through philanthropy. This award serves as a reminder of their ongoing commitment and the bright future they are shaping through their selfless contributions.
Dholakia Foundation, a philanthropic arm of Hari Krishna Exports Pvt Ltd, is a leading philanthropic organisation dedicated to creating sustainable change in various sectors, including education, healthcare, women's empowerment, and community development. With a strong commitment to social responsibility, the Dholakia Foundation strives to make a meaningful difference in the lives of individuals and communities. The Foundation's #Mission100Sarovar and 10 Million Trees by 2030 (102030) Mission initiatives showcase its strong commitment to sustainable environmental conservation. With over 2.5 million Trees grown and 125 lakes developed across Gujarat and India, it addresses water scarcity while adhering to the UN-defined Environmental, Social, and Governance (ESG) Principle.
Dr. Rolando Gaspar
Dholakia Foundation
+91 73833 01120
[email protected]
Visit us on social media:
Facebook
Twitter
LinkedIn
Instagram
YouTube


Article originally published on www.einpresswire.com as Dholakia Foundation (Hari Krishna Exports) Awarded Philanthropy Category at The Indian Family Business Awards 2022